An ISO 9001:2015 certified company

Book Vedic Hindu Puja

In-house energised place for puja

Puja done by Experienced Pandits

Join Puja Live
50000 +
Minutes of Live Puja
1200 +
Satisfied Customers
How Online Puja works?
Finding an experienced Pandit is challenging. Keeping that in mind, we started this service where you can simply book Puja online and our experienced Hindu Priest will perform the rituals on your behalf at our premises.
1
local_phone
Book Puja for Your Problem
2
access_time
Panditji will decide Puja Time (IST)
3
home
Puja at our Energised Place
Booking puja live is convenient
You don't have to worry about finding Priest anywhere in USA/Canada or shop or any ritual elements. We will take care of everything for you, arranging all the ingredients and holy place to conduct Puja on your behalf.
Puja will be done in real at our premises
When we say Online Puja, all the rituals are performed at our premises and you can take part using your smartphone, while sitting at the home.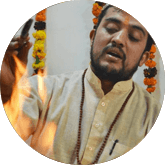 You can join Puja via Live Video
Be part of the Live Video through Live Video Chat and take online Sankalpam.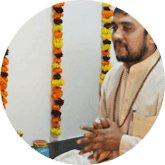 Hindu Pandits will do Puja with proper ritual
Our Priests come from Hindu family and they follow complete Vedic rituals during the puja.
What our customers are saying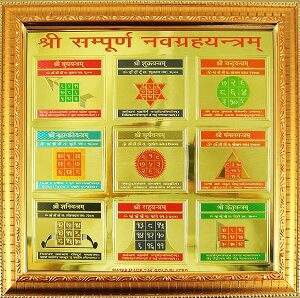 Navgrah Shanti Yantra
On completion of Puja, we will ship an energised Navgrah Shanti Yantra which you can keep inside home or office to keep all nine planets calm and work in your favor.
About Our Online Priest
The Vedic Pujas done according to Hindu rituals are performed by experienced Hindu Priest. You don't have to worry about finding pandits in local area, buy ingredients and whether the proper rituals will be followed or not.
We at BookPuja.com will take care of all these on your behalf. Only thing you need to do is take part in Live Puja right from your home.
The pujas performed this way are as real as traditional ones. Only change is that you'll take part using the available technology, i.e., Live Video Chat. So, you'll definitely get benefited after having performed the rituals.
So why wait? Book Online Puja now to get rid of problems in your kundali.
FAQs
How online puja works?

Vedic Puja rituals are performed in real. You just book puja online using your smartphone or laptop, while sitting comfortably at home. In other words, no more hustle to find experienced pandit.

How to book puja online?

Select a Puja and our experienced Pandits and Acharyas will conduct the same on your behalf to fix doshas in your birth chart.

How to find Priest online?

You book a particular puja and we will find Priest online for you and will take care of the complete procedure and rituals.

Do you perform pujas as per Vedic Hindu procedure?

Yes, all the pujas are performed according to proper Vedic Hindu procedures. All sorts of rituals are performed according to the type of puja.

How do you decide timing for online Vedic Puja?

Our experienced Pandits go through your birth chart, select a puja to fix issues in Kundali and then decide the right time for Vedic Puja to get maximum benefit.

How online Puja will help me?

All our pujas are done in real with proper Hindu rituals and by esteemed Pandits. We conduct real puja with your name, gotra and according to the specific problem you facing in life. So, this will help you fix life issues for sure.

How can I join Puja?

You can join live Puja using WhatsApp or Skype or any other live video app and take part in the rituals. The convenience and comfort of this method is unmatched by any other.